You Really Do Have Time to Enjoy the Holidays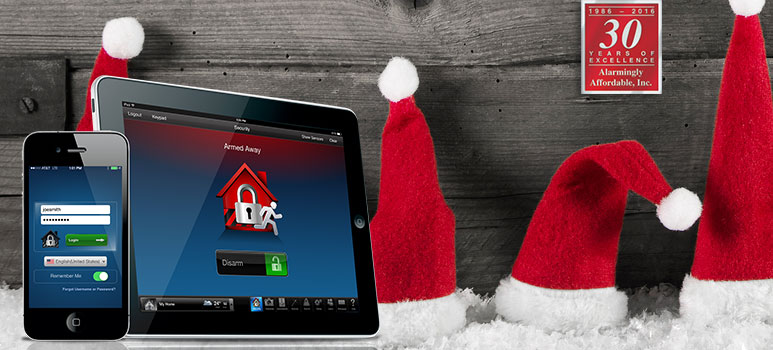 The holiday season is a wonderful time of celebrating family and friends, but all that merriment doesn't happen on its own. It takes a lot of preparation. For most people, the holiday season is the busiest time of the year. And in all that business, it is easy to let that holiday to-do list get unmanageable, and let the really important part of the holiday season get forgotten.
But you don't have to let another holiday season breeze by without having plenty of time to enjoy it. All you need is to use home automation technologies to ease the load and then rededicate your free time to friends and family. Home automation can simplify a multitude of time-sucking tasks and enhance your holiday with only a few taps of your finger. Now that is holiday magic!
Feel free to pour a glass of egg nog and then read on to learn about ways you can use smart home technologies to make your holidays even brighter.
Keep Holiday Lighting Shining
After spending all that time stringing up lights you'd think we'd remember to turn them on, right? But in all the holiday hustle and bustle it is very easy to forget to do this and before we know it, the holiday season is over. With home automation, you can schedule the holiday lighting to go on and off right on time every night.
No More Worrying
It happens to the best of us. Our minds are racing on to the next thing we must do and in the process, we forget to do something really important like turn off an appliance or lock the doors. It's a simple mistake, but forgetting these things can lead to very unfortunate consequences. Home automation can take the burden off forgetting by allowing you to lock doors and turn enabled appliances from afar.
Enhance Holiday Ambiance
Holidays deserve the extra touches that make them extra special, and home automation can help make that happen. Use home automation technologies to set the stage for spectacular memories with little touches like setting the best holiday playlist ever, or making sure the lighting or temperature is perfect for the moment.
Oh, No, You Didn't.
Some savvy children have become expert package peekers and no hiding spot is secret enough to foil their efforts. Don't worry, home automation has your back. Just use motion sensors to guard your gifts and get alerts when they get too close to holiday goodies. (Sorry kids.)
Keep Deliveries Safe
During the holiday season package deliveries become more common, as does package theft. Thieves have become braver and more brazen than ever before and it is up to you to do all you can to protect your belongings. With home automation, you can take the stress and worry out of getting packages by using home automation tools. Simply use your doorbell camera to send you an alert when someone approaches the door, then speak to the mail carrier directly to tell them where to place the package safely. You can even use home automation to open the garage door and ask the mail carrier to place it safely inside the door.
Home automation can take the pressure off your busy holiday schedule and leave more time for doing what really matters. If you'd like more information about home automation, please give Alarmingly Affordable a call. Alarmingly Affordable is locally owned and operated and specializes in electronic security and home automation systems.

Latest posts by Steven Capogna
(see all)