You Can Be A Security Superhero This Halloween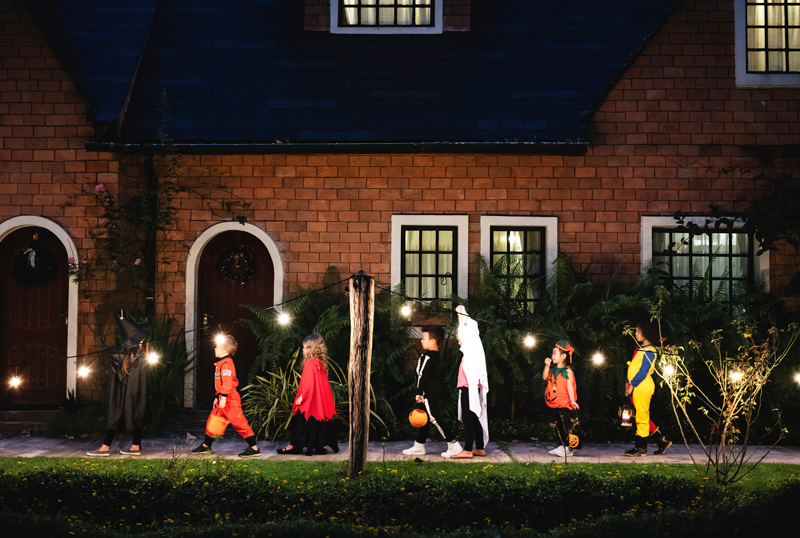 Halloween is a delightful time for kids as they dress up and head out in pursuit of tasty treats. However, there are adults on the dark streets with mischief in mind. It's easy for burglars to blend in with the Halloween strangers walking up and down your street. These strangers' case out homes to burglarize while blending in with the parents of little spooks and goblins in search of candy.
While predictable Halloween crimes include pranks and vandalism, there can also be violent crimes and home invasions. Let's look at ways a good home security system can keep your house and family safe.
Staying Secure in Your Home
You may decide to stay home this Halloween. Since random strangers are checking out your neighborhood, be sure your home security system is up to date. It's not likely that a burglar will ring your doorbell. However, if you just don't want to open your door to strangers, use your   or video doorbell
Being opportunists, criminals look for thatwindow you left unlocked, or the garage door you forgot to close. Don't be a victim on Halloween night. Ensure that your security system has the latest updates so that you and your family are safe. Video doorbells, smart locks, and security cameras are all part of a good home security system.
Use Your Smartphone To Fight Crime
You can easily fight crime this Halloween by making sure you set up security alerts on your smartphone. In today's world, you don't need to only rely on weapon when you can protect those you love with the press of a button. Depending on the home security system you choose, your smartphone can receive alerts when someone leaves a window open, or a door unlocked.
Video surveillance is another way to be sure your home is secure. Using video cameras, you can monitor your home with your smartphone. Keep an eye on things , whether you are there are not. Video cameras can provide valuable information should there be an incident where you need to call the police.
Home Security Systems Keep Criminals Out
Smart home security systems can keep criminals away from your home. Most intruders don't  want to risk breaking into a home with a security system in place. On Halloween night, this is of great importance as it deters potential property damage and home invasion. Having the security system sign in your yard is a deterrent but be sure it's not a fake sign that will invite criminals to explore further.
With Halloween being a night that brings strangers to your door, a good security system can give you peace of mind. Instead of putting on a costume, take out your superhero weapon of choice, your smartphone. Then relax and enjoy the holiday.
Your smartphone keeps you connected to your security system and allows you to always know what's going on at home no matter where you are. Learn more about how to keep your home and family safe by contacting a security integrator that can walk you through personalized options for your home.
About Alarmingly Affordable
ALARMINGLY AFFORDABLE has more than 35 years of electronic security system experience. We realize the importance of building and maintaining long-term relationships with both our customers and our suppliers. A primary focus for our company is taking pride in providing our clients with an unparalleled level of quality and service.

Latest posts by Steven Capogna
(see all)