Does Your Family Have a Disaster Supply Kit?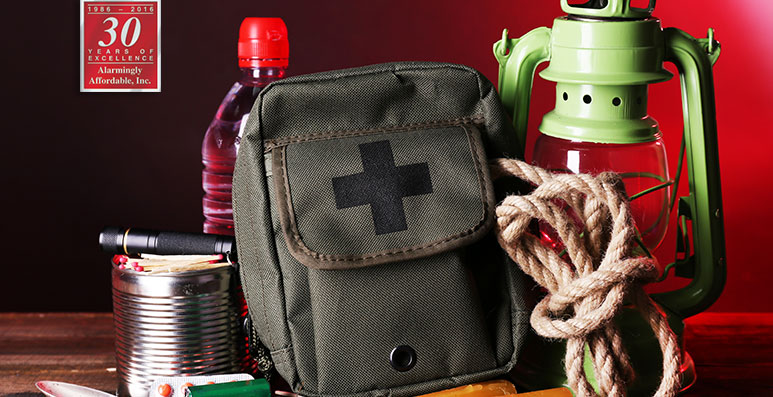 September is National Disaster Preparedness Month. This is a great opportunity for families to get prepared for a potential disaster, whether that emergency is naturally caused or man-made. Your city may be holding an official event to offer residents training; if so, we encourage you to attend! Either way, here are some tips for assembling your family's necessary disaster supply kit.
Collect basic items.
You only need to collect items that your household may need in the event of an emergency: food, water, first aid supplies and tools. We will list those here.
Assemble your kit in advance.
The time to prepare for an emergency is not during the emergency – it's now. There will be no time for searching around for items in the middle of a disaster.
Remember everyone's needs.
Take into account the needs of everyone in your family. Is there a nursing mother? She will need extra water. Is there a child with special needs? He will need anything that brings him aid and comfort, including medication and a favorite non-perishable food.
Speaking of food, your family will need a three-day supply of it. Non-perishable foods that everyone will eat are what you need to stock up on. Remember any special dietary needs, and avoid foods with high salt content, such as chips. When there is a limited supply of water, you don't want anyone to be thirsty.
In addition to food and water, other disaster supply kit items your family will need include a:
Battery-powered or hand crank radio
Working flashlight and extra batteries
First aid kit
Whistle to signal for help
Set of dust masks, one for every family member
Baby wipes for personal sanitation
A wrench or pliers to turn off utilities
A manual can opener for canned food
A cell phone charger and an inverter or solar charger
Can't afford to buy all these items at once? Start incrementally, by purchasing two items per week until everything is checked off the list. When it comes to disaster preparedness, doing something is better than doing nothing.
About Alarmingly Affordable
Locally owned and operated in Staten Island, New York, Alarmingly Affordable, Inc. is a highly technical organization specializing in electronic security systems integration. Our core business is the design, installation, maintenance, monitoring and service of electronic security systems.

Latest posts by Steven Capogna
(see all)