Why Fake Home Security Cameras Aren't Your Friend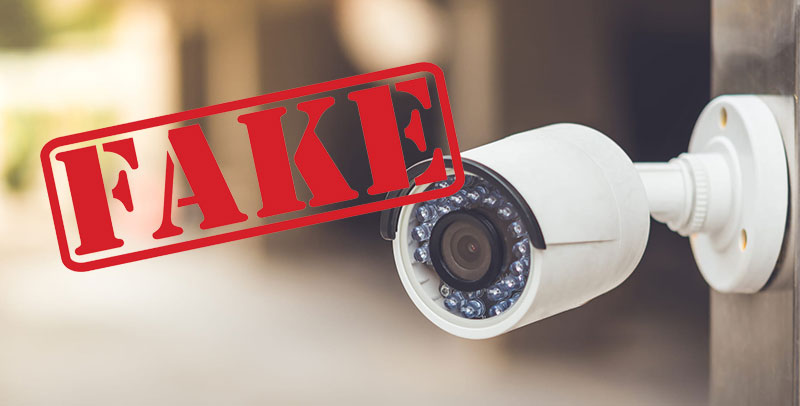 Have you ever wondered why urban legends have so much longevity – especially the ones about safety? From childhood stories on mythological home intruders, to the more mature myths passed around by adults, urban legends about security seem to get new life with every generation. One example of a home security urban myth passed around by adults: "You don't need real cameras; fake security cameras do the same thing."
Is it true? Not by a longshot. Sure, everyone knows someone who has a fake camera installed above the door. Some of these people claim this is the reason they have successfully kept burglars away all these years – but can they prove it? Not typically. Here are some reasons fake home security cameras aren't your friend.
Burglars know the difference.
Seasoned burglars have seen real cameras and fake cameras, and they know the difference between the two. And today's burglars may be younger, but they also have more street smarts than their predecessors did. Many times, a fake camera is not a deterrent to them at all.
They don't record anything.  
A fake camera can't be triggered by the motion of someone who is near it; in fact, it can't be triggered at all. Compare that to a real, connected home security camera that starts recording footage the moment it detects motion – and, sends an alert to your smartphone so you'll be able to see what's going on.
They don't facilitate communication.
If a person approaching your home is up to criminal mischief, a real home security camera will spring into action. And if it's a doorbell camera, you can talk to the person through the two-way communication speaker. What will you tell them? That they need to leave! A fake home security camera lacks this functionality completely.
They aren't monitored.
If a criminal of some kind forces his way into your home, a real home security camera that's connected to the alarm system will send a signal to the monitoring center, where trained security operators are standing by to help. With a fake camera, there's no monitoring, no operator and no help. Unsurprisingly, fake cameras can actually help criminal plans succeed.  
Evidently, there are important differences between the false security of a fake camera and the true security of genuine cameras. To learn more about affordable home security cameras, Staten Island homeowners should contact Alarmingly Affordable to request a free home security consultation. 
Call Alarmingly Affordable to Learn More
Real cameras are critical to home security. Staten Island homeowners, call Alarmingly Affordable to learn more. We will be happy to answer your questions.

Latest posts by Steven Capogna
(see all)