Unexpected Smart Home Helps for Moms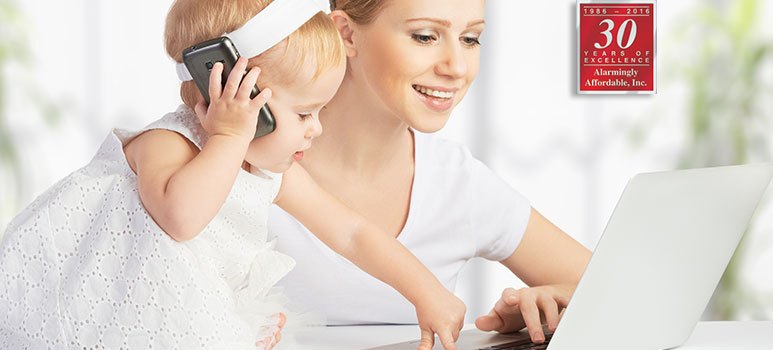 Whether it is your first baby or your fifth, being a mom is no easy job. The job title contains a million other job titles, such as Director of Operations, Safety Officer, Logistics Engineer, Negotiator, Nurse, Nutritional Expert and more. Here are just a few of the essential responsibilities that come with the job position—
Necessary Skills, Knowledge, and Abilities
Oversee daily operations of the household
Develop and maintain strategic logistical plans for all members of the household
Track progress of individual projects and provide any necessary support or supplies
Track daily, weekly, and monthly goals against assigned associate goals and duties
Provide operational support to all members of the team at once
Provide solutions that satisfy safety, productivity, structure, consistency, and well-being while maintaining cost-efficiency
This job is no joke. And that is exactly why smart home technologies are so incredibly important to fulfilling the duties of the position.
How Home Security and Home Automation Technologies Can Support Moms
The ways home security and home automation technologies can help moms (and dads, too) are endless but here are just a few of the most significant to get you started.
Increasing Safety
As a parent, we are always worried about the safety of our children, so if there is a way to increase their safety we are definitely on it. Home automation provides a multitude of customized ways to improve the safety of the entire family, including your kids. Here are some of the best:
Use your phone to check the security camera in your baby's room to make sure all is well.
Motion sensors can alert you if an industrious toddler tries to escape to the backyard.
Encourage independence while still ensuring safety by getting a text when your older child comes home and opens the front door.
Before you open the door to anyone, you can see exactly who is there and find out for what purpose.
Providing Structure
Every home needs some structure to function properly, but it is a tough task to maintain. With help from home automation though, you can have everyone and everything shipshape in a flash. Here's how.
Never let the doorbell disrupt naptime. Just set it to silent and let baby sleep peacefully.
Kids always want to push bedtime a bit later than you'd like. Make lights out time really lights out by scheduling when they go off. An added advantage is that you can always take out your smartphone and see who is breaking the rules without having to get out of bed or give them warning when they hear you coming.
For kids that are slow to wake in the morning, use lighting, temperature, and music controls to help the process along.
Alarmingly Affordable has over 30 years of experience in providing superior installation and monitoring.

Latest posts by Steven Capogna
(see all)