Unauthorized Teen House Party? Close it Down in 6 Easy Steps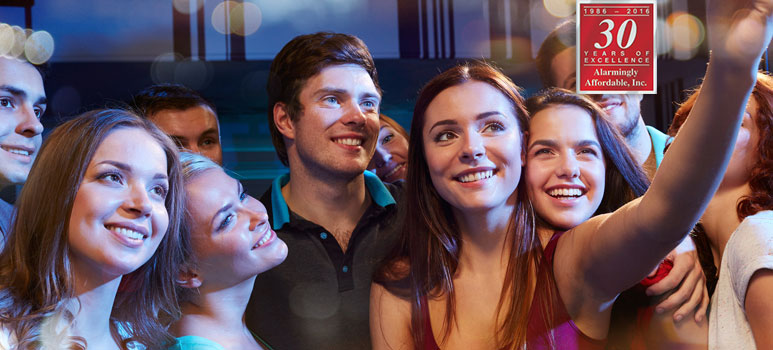 Teens can cook up a lot of mischief, especially when they have some free time but you don't. One of the manifestations of teen, umm, creativity shall we say, is the unauthorized house party. Prior to home security and home automation technologies, parent of teens had to rely on alert neighbors to inform parents of concerning activities, or even worse, hear about it from the authorities that had to break up the action. Today, parents can rely on home automation technologies to help enforce the rules.
If your teen ever tries to call in his or her crew without your knowledge, here are some smart ways to get things under control while you make plans to come home.
Send Photographic Proof
You can't deny photographic proof. Use your home security footage to text your teen proof of the activity to let them know you are fully aware of what is going on. This should be quite enough motivation to end the party immediately. If not, don't worry. Home automation provide quite a few more parenting tricks.
Kill the Entertainment
It is pretty hard to have a party without music and television, right? One of the first things a parent can do is kill the music immediately. Another option is substitute a much less favorable playlist and pipe in anything they might find annoying. Next, kill the television so the party atmosphere is squelched. A steady stream of folk songs should let all of the revelers know that the party is over.
Turn Up or Off the Heat
Another option is to control the temperature via your phone and smart thermostat. You can make the indoor temperature either too warm or too cold to be at all comfortable. It is just one more element to make the party just not worth the effort.
Kill the Lights
It is hard to have any fun with the lights flickering uncontrollably. While it may be just annoying, it is just one more way to send the message that the party is over and you are on your way.
Did the Party Move Outside?
If all of your deterrents sent the party outside it is the perfect opportunity to lock the doors and prevent them from re-entering. Once the attendees clear out you can let your teen back in but not before using the doorbell camera to take a picture for your screensaver. Some moments are just worth saving.
Sound the Alarm
Chances are good that your home automation power play has the house cleared out, but if not you saved the best for last. Finally, sound the alarm. Partygoers will not know if the alarm is simply sounding or if the authorities have been alerted and are on the way. That is enough to send any partier on the way.
Alarmingly Affordable Inc. is locally owned and operated in Staten Island, New York. We specialize in electronic security systems integration. Please call us today with your questions.

Latest posts by Steven Capogna
(see all)