True Benefits of a Smart Video Doorbell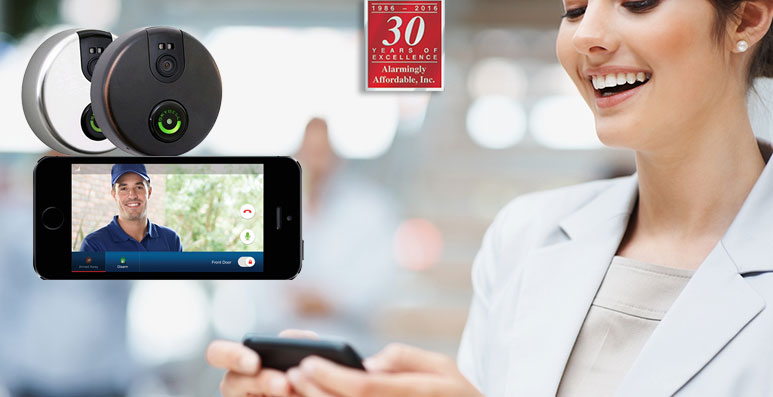 Perhaps you have not given it much thought, or you have heard from those who have them how helpful they are and want to know more. The video doorbell is a humble and unobtrusive tool, but it is mighty in helping protect your home– so it pays to know all you can about them. What are the true benefits of a smart video doorbell? We'll tell you.
Traditional Doorbells Have Obvious Disadvantages
Because there were no alternatives until recently, we do not often think about the traditional doorbell as having any disadvantages, but they do. In fact, traditional doorbells have inherent dangers that put you, your family, and your home at risk. When you have a traditional doorbell, you:
Need to go to the door to address every need.

Have no way to verify identity before you get in close proximity.

Tip off thieves that you are not home if you do not answer.

Frequently have to open the door to strangers.
A Brief Explanation of Video Doorbells
Video doorbells are similar to traditional ones in that they can alert you when someone comes to the door, but that is where the similarities end. Video doorbells are additionally equipped with HD 1080p night vision cameras, two-way audio, and motion detection. Users can access all of these features from a smartphone or other smart device through the smart home app.
HD Video Doorbells Enhance Security and Add Convenience
The front door is one of the most vulnerable points in your home. It is frequently used, often left unlocked, and a thief's favorite point of entry. This makes the smart doorbell an essential home security tool. Here are just a few of the ways it enhances security and add immeasurable convenience.
Motion sensors alert you to activity before the person is at the door.

Clear HD video images let you identify the visitor without having to open the door, or even get close to it.

Infrared equipped doorbell cameras let you clearly see who is at the door, even in the dark.

By accessing the doorbell camera, you can see who is at the door and address them through the two-way audio before disrupting your activities.

Since you can answer the door through the video doorbell, you never have to tip off a possible intruder that you are not home.

When motion sensors alert you to movement, the doorbell camera can record, take snapshots, and download images of suspicious activity.
With over 30 years of electronic security experience, Alarmingly Affordable prides itself in providing unparalleled service.

Latest posts by Steven Capogna
(see all)