Smart Ways to Use a Doorbell Camera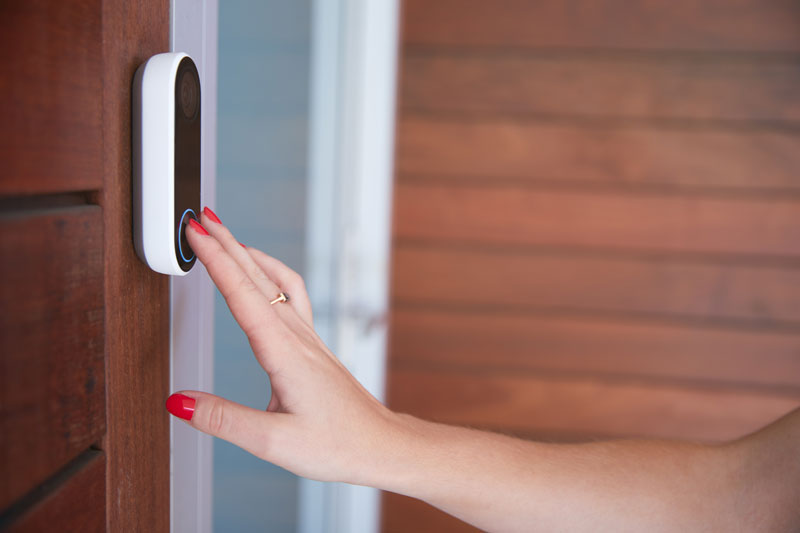 If you haven't yet invested in a doorbell camera, you're missing out on a powerful home security tool. There are so many smart ways to use a doorbell camera; here are some of the smartest.
Watch out for would-be criminals.
In an age where we benefit from the convenience of having everything delivered, we're also more vulnerable than ever. That's why one of the smartest ways to use a doorbell camera is to watch out for any would-be criminals as they approach your doorstep. You'll get an alert to your phone with a live video clip of them at your doorway – and when you intervene using the two-way voice speaker, some of them may be spooked enough to run away.
Help the ones who help you.
Your doorbell camera can be useful for letting in housesitters, babysitters, dog walkers and other helpers. The live video clip will show you they've arrived – and if you have a smart locking door, you'll be able to use your phone to remotely let them in.
No more keys under the mat or distributing copies of the key to temporary helpers. With your doorbell camera and smart lock working together, you can give temporary access to whoever may need it.
Actively parent from anywhere.
Your doorbell camera isn't a complete childcare provider, but it can help you actively parent from anywhere you are, including work. If your children are still in the house doing school from a distance, you'll know the moment someone is on your front porch while the kids are home alone. You'll also be able to talk to them through the two-way voice speaker, and instruct them accordingly. If it's a trusted person, you decide whether the kids can let them in; if not, you can ask them to leave. Many parents wonder what they ever did before a doorbell camera.
These are some of the smartest ways to use a doorbell camera. To learn more about this important security device, contact Alarmingly Affordable. We'll be glad to speak with you.
Call Alarmingly Affordable to Learn More
Alarmingly Affordable has more than 35 years of electronic security system experience. We realize the importance of building and maintaining long-term relationships with both our customers and our suppliers. A primary focus for our Staten Island security company is taking pride in providing our clients with an unparalleled level of quality and service.

Latest posts by Steven Capogna
(see all)