4 Reasons to Love Smart Garage Doors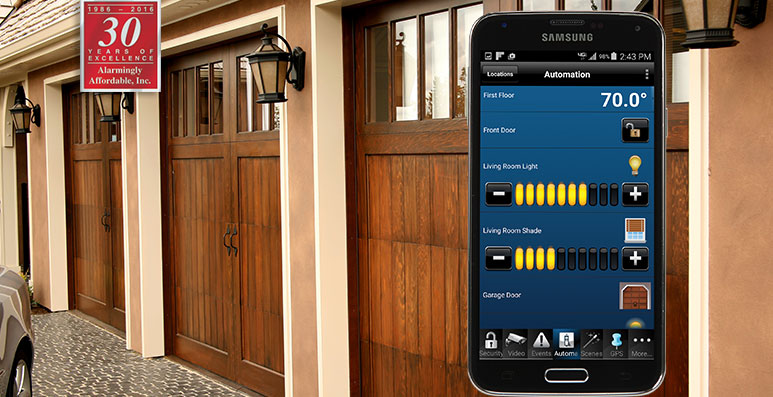 Chances are pretty good that you have not thought extensively about smart garage doors. That's okay. Being so useful that you forget they exist speaks highly of their benefits all on its own. If you have a smart garage door, you doubtless will agree with 4 very important reasons why they are such an important part of any smart home.
If you are fortunate enough to have one, you know that the garage is a pivotal part of your home. It is a space to keep your car safe and out of the elements, but it is also a place to store valuables and very frequently serves as the entrance to your home. Because of this, the smart garage doors play a valuable role in your life.
Enhanced Safety Through Smart Garage Doors
One of the biggest problems with garage doors is user error. Over 70% of Americans use the entrance from the garage to the home as their primary entrance. This leaves plenty of opportunities to leave it open by mistake, putting your home, family, and possessions at risk. A smart garage door solves this problem by using geofencing and your location as a trigger to close the garage door when you leave or close it behind you when you get home. So, even if you forget to lock the entrance to the home the home is still secure.
Get Garage Door Alerts
Another way it provides increased security is through alerts. Every time your garage opens when you are not home, the home automation app sends an alert to your phone so you can check on the activity. If it is connected to your security system, you can also see who or what caused it to open. This means you know when loved ones make it home safely or if someone not authorized is trying to gain access to your home.
Controlled Access
The ability to open a door remotely, or to provide access codes is another truly valuable ways smart garage doors provide safety and convenience. These features mean you never need to worry about being home to let in friends or family. When you use unique access codes, it also means you know who got home when, and never need physical keys which might be lost.
It can Serve as a Trigger
When your smart garage door is connected to other smart devices and appliances, opening or shutting it can serve as a trigger other actions. Using geofencing, it can detect your close proximity which signals the door to open, the lights to turn on, the temperature to adjust, or any other task you set to be triggered. When you leave, it can trigger the doors to lock and the security system to be armed.
With over 30 years of electronic security experience, Alarmingly Affordable has built its reputation on exceeding client expectations. Give us a call today. 

Latest posts by Steven Capogna
(see all)