Moving? Remember These Tips for a Safe Move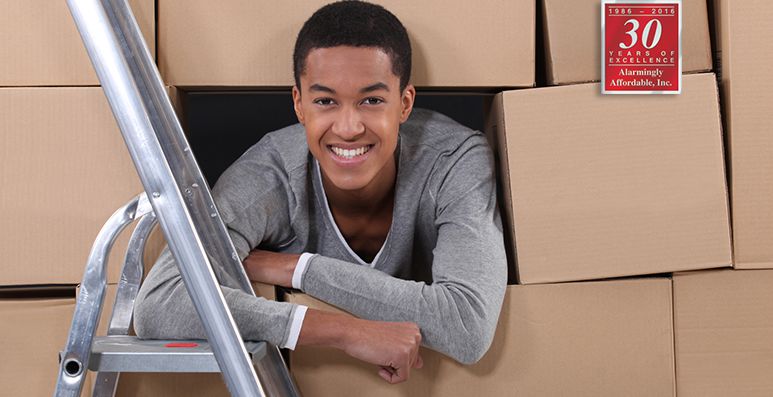 Moving can be unbelievably exciting. It can also be incredibly stressful and chaotic. Between packing and all of the other last-minute details, your mind has to be in many places all at once. It is easy to see how things like security might fall through the cracks—and easy to see how moving distractions become a huge advantage to criminals.
When you move to a new place, security is the last thing on your mind. After all, would-be burglars do not even know you are there yet! But home security should be at the top of your list even while moving. If your new home was on the market, it probably had a highly visible "for sale" sign out front, and then a nice bright "SOLD" sign across that. Both of those are signals for industrious thieves to get ready for a major opportunity.
If you'd like to make your moving experience as smooth and safe as possible, try a few of these tips.
Keep Your Current Home Secure
Never get lax with security, even if you only have a few days left in your home. Burglars expect that you have discontinued security services, that doors will be left open, and that the occupants are not paying attention. Stay vigilant.
Keep Watch using Home Security Cameras
Use your home security cameras to keep watch over your property until the last moment. If the move is close enough that you are making trips, check in on the home through your smartphone app to make sure that no unauthorized persons are lurking around.
Code Your Boxes
Your home is all packed up with precision. All of the boxes are marked according to content and room. Perfect, right? Maybe not. Boxes that are marked with contents are an easy grab and even help burglars decide what to cart off swiftly. Try a color code so only you know what is in the boxes, then number them to ensure they all make it to the new location.
Do a Full Walk Through Before You Leave
Nothing is worse than figuring out you left something important or sentimental behind after you move. To avoid this, do a thorough search of the home including closets, cupboards, rafters, garage, attic, and crawl space.
Set Up Security at the New Home
Do not wait to set up a new home security system until "things settle down". Instead, have it installed ahead of your arrival. Having features like home security cameras allow you to watch your home and property between trips and is also an immediate crime deterrence. Having a video doorbell is another big advantage and allows you to screen all of the unfamiliar visitors and service providers that will be coming over before opening the door.
If you are moving, do not let your home security get relegated to the back burner. Talk to Alarmingly Affordable about the ways you can keep your home, family, and possessions safe.

Latest posts by Steven Capogna
(see all)